Location:
The American Red Cross Building, 3rd floor at 1045 Outer Park Dr. Springfield
Description: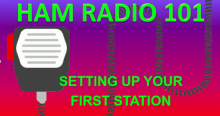 Ham Shack 101:  Setting up a Ham Shack for Newly Licensed Hams, January 3, 2019 SVRC meeting. Presentation by Roger K9LJB, Mitch K9ZXO and Todd KD9BNQ
Social hour at 6:00 pm, meeting/presentation at 7:00 pm.
The general public is welcome to attend as well as area ham operators and SVRC club members.